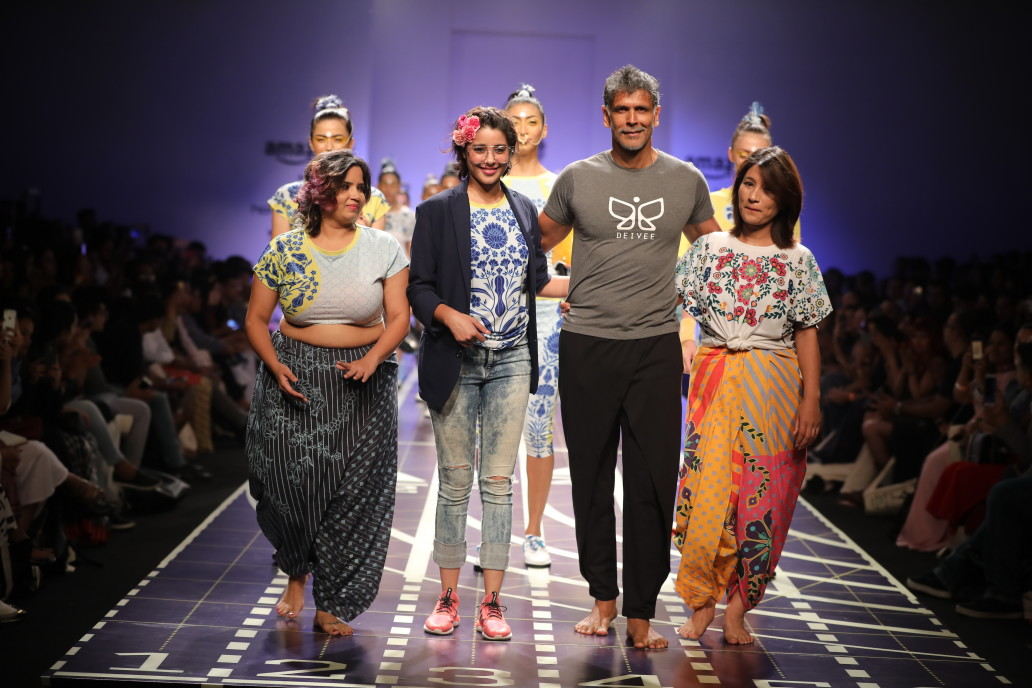 BEND IT LIKE SOMAN
The man who launched a thousand ad campaigns Milind Soman, mingles with Nida Mahmood as she flirts with gym wear for her SS'18 line
By Asmita Aggarwal
Ah! Milind Soman, the model who once only had a snake slithering around his (and his then partner Madhu Sapre for a sneakers ad) rather gorgeous body is as yummy as he was almost 15 years ago.
It is just that his salt and pepper beard, is now a little more endearing than his athletic shape thanks to all the barefoot running. So when he teamed up with the queen of quirk, Nida Mahmood, it had to be a mix of Bollywood music, an ode to the era of Zanjeer and Big B, the resurgence of the rocking 70s as well as a bit of ahem….theatrics.
So Deivee, Milind's brand that offers gym wear was showcased in a rather interesting way. The Jasmine flowers on the wrists and the gold, bold nose rings and white extra large bindis rubbed shoulders with boxing gloves and sequinned emerald green and baby pink helmets, and some really perky posteriors.
Printed floral power found its way on short shorts that came with pockets as well as midriff revealing cropped tops, with ikkat prints, making it an amalgamation of crafts meets the boxing ring. Would you call it fun? Yes. Irreverent no, but certainly cheeky! It was also a good break from Nida's overdone saris worn over jeans, and with a little help from Milind, the show displayed a new, fitter side of her.

And this light-heartedness also schmoozed its way on the celeb guests who walked the runway for her. Specimen 1: Dolly Singh, the coolest woman you will ever meet, who despite her small, large frame can perform gravity defying yoga tricks, that she learnt on her own and used to practise in Mumbai's parks, till some eager lensman, found her and made her an Instagram sensation! But what caught everyone's fancy was the 101-year-old 100 metres runner, Man Kaur, a lady who not just ran on the catwalk, but also broke into an impromptu jig inciting a loud round of applause.  She won her 17th gold medal at the World Masters Games in Auckland, New Zealand, as she managed to finish 100 metres in one minute 14 seconds. 
She started competing at the age of 93 in sporting events with encouragement from her son, Gurdev, who is also a runner! But that's not all. Four Time Everest mountain climber, from Arunachal Anshu Jensempa and V. Nanammal, a 98-year-old yoga teacher from Ganapathy, Coimbatore, who was recently honoured with the Nari Shakti Puruskar also showed their skills on the catwalk. 
Article Credit : FDCI